سایت MTVIGGY از سایت های متعلق به MTV آلبوم Back from the Brink کورش یغمایی را مورد بررسی قرار داده است .
ضمناً آهنگ های گل یخ - اخم نکن - سراب تو - هوار هوار و دختر دلخسته ی شهر بصورت جداگانه هم نقد شده اند .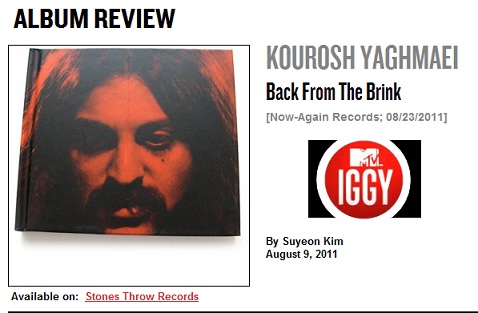 An Iranian Psych Rocker's Musical Journey
Back from the Brink launches listeners back to the free-wheeling days of pre-Revolution Iran, where a young Frank Zappa look-alike listened to Dylan LPs and remade psych rock in his own image.
The best thing about this 40-year time (and space) travel is arriving to weirdly discover that Kourosh Yaghmaei's vintage tracks seamlessly complement your iTunes collection, nestled between The Horrors and Hello Seahorse! His music is ripe for mining by today's young'uns, maybe because his Persian-dipped psych rock pointed the way to our globalized present day, long before Maya Arulpragasam was even a neon twinkle in her mother's eye. Now, thanks to Now-Again Records' stunning compilation of his work, much of which has never been officially released, we have the chance to follow in his psych-folky footsteps.
Yaghmaei's early band, The Raptures, played Beatles covers in suits and matching shirts, and judging from the photos in the CD liner notes, these fresh-faced Iranian heartthrobs could have graced the pages of New Musical Express. As the sixties passed into the seventies, Kourosh grew out his hair, started wearing flowing peasant shirts, and began composing and ghostly psychedelia with traditional Iranian influences. Which is where we begin our journey.
With his voluminous center-parted hair and handlebar moustache, Kourosh looked like Frank Zappa crossed with Captain Beefheart — a scary hippie rocker. But in his photos he wears a soft, faraway expression, unlike his zany American counterparts. You could say the same about his musical resemblances to Western rock — it shares the innovative fusion and sounds of psych-folk rockers, but with a more relaxed, philosophical worldview. The music is certainly more romantic and fatalistic. Maybe it's the addition of Persian melodies and rhythms, or just that Yaghmaei probably did less drugs when he was songwriting. But there's some little twist that makes you want to come back again and again.
The album starts out strong with "Gole Yakh" ("Winter Sweet" or "Ice Flower"), easily the album's standout song. Kouroush released only four 45s in his entire career, from 1973 to 1975, and "Gole Yakh" was the first. It also sold millions of copies in Iran, allegedly to a fifth of the Iranian population at the time. Even if that's an exaggeration, the dozens of low-res video clips of his television performances lovingly posted on YouTube point to the song's popularity and his Iranian beloved-ness in general.
One Kourosh discussion thread roughly translates "Gole Yakh's" lyrics, which begins, "the sadness has made a nest in your beautiful eyes." If your hard heart isn't broken yet, it's because you haven't heard the sad, beautiful melody. With its jangly keys and bluesy guitar flourishes, the song hints at his different influences but doesn't show its cards.
"Akhm Nakon" ("Don't Frown") strangely has a minimalist percussion opening, almost like New York post-punkers ESG. But that resemblance disappears with the entrance of noisy, feedback-heavy guitar. "Saraabe Toe" combines harmonized vocals, mellow guitar riffs, and tambourine for a sublime, melancholy experience. Listening to it, you may want to put on a peasant blouse, away to the renaissance fair, so you can tryst with your beloved. You've been warned.
Of course, some things get lost in translation. "Havar Havar" ("Shout Shout") wavers on the outer edge of avant-garde. The arrangement is from outer space, with really reverby guitar and a funky bassline, but the melody gyrates between traditional-sounding minor chords. Not all cross-pollinations work, and this one veers off into cheesy Iranian deep space somewhat.
"Dokhtare Delkhasteye Shahr" falls among the group of tracks which were nearly lost to history. Kourosh's music, like all Western music, was outlawed after 1979, and the last eight songs on the second disc only survived the Revolution on damaged tape masters. Although the rocking guitar chords and his smooth crooner voice still ring through, the songs' wispy, undulating quality gets lost in the static. Instead of transporting us magically to a dreamy place, the music bring to mind the high price paid by Western-influenced artists like Kourosh who chose to remain in Iran. Prohibited from making the music they loved, they had to pretend it didn't exist, or even destroy it. Lucky for us that these tracks remain.